Zedd on His Pictures with Sam Smith, Hulk Hogan & More | EXCLUSIVE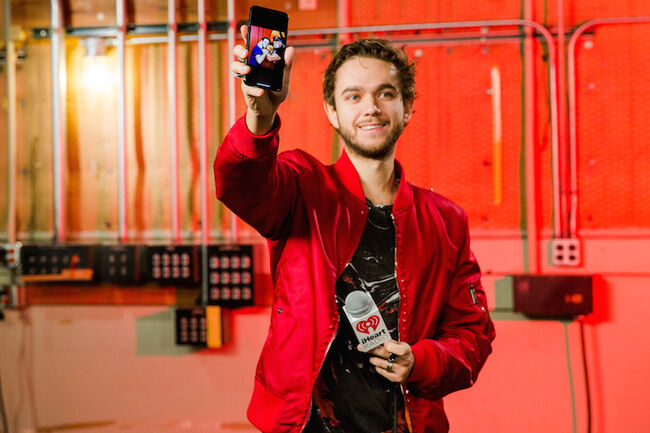 It is good to be Zedd. The 28-year-old scored a hit last year with his collaboration featuring Alessia Cara, "Stay," and has now done it again with "The Middle." Zedd's new single, featuring country star Maren Morris and producer duo Grey, is everywhere, including several Target commercials. And last year, the producer/DJ also teamed up with One Direction member Liam Payne on their collab "Get Low."
But there's a lot more from Zedd to come, as he has been working on some exciting collaborations. He recently told iHeartRadio, "I have some really exciting collaborations with some up and coming people, with some famous people that have never done a song like this before. And I'm really experimenting with genres, if you wanna call it that, and really mixing things together that I think haven't really quite been mixed together like this before, in combination with a singer that people don't expect. I think its always something refreshing to hear."
RELATED - INTERVIEW: Zedd Talks "The Middle," Exciting New Collaborations & More
As if that's not exciting enough, this year Zedd took home the iHeartRadio Music Award for Dance Song of the Year for "Stay." The song was nominated alongside alt hits including Cheat Codes & Demi Lovato's "No Promises," Clean Bandit's "Rockabye" featuring Sean Paul & Anne-Marie, The Chainsmokers & Coldplay's "Something Just Like This," and Kygo & Selena Gomez's "It Ain't Me."
While catching up with Zedd, the producer/DJ showed us some never-before-seen photos from his personal camera roll. Fans can see Zedd hanging out Sam Smith (they wrote a song together!), meeting Hulk Hogan and more.
So, what does Zedd have going on in his personal camera roll? Check out some of the best pics below. You know, pics or it didn't happen.
The last picture he took with a celebrity: Sam Smith
"This is a picture of Sam Smith and I when we were in the studio writing a song. Because we never met before, and we wanted to work on music together."
The weirdest picture on his phone: #NoFilter
"I didn't know this was on my phone. I don't remember taking it, but it seems like I would have taken something like this at some point. It's me without a filter."
The story behind this Zedd + Hulk Hogan pic
"We were walking into our green room, and Hulk Hogan was just, like, out there. And somebody's like, 'There's Hulk Hogan right outside the green room.' We were like, 'Oh, really? We should bring him in.' So he comes in and he's like, 'What's up, brother? Nice to meet you.' And then, yeah, we met for the first time."
Zedd's Best Hulk Hogan Impression:
"'What's up, brother?' Constantly having every muscle fully ... and he said when he takes photos, also, there's a specific grip to where you have your hand -- I don't remember, exactly -- on somebody's shoulder, so that your biceps and triceps pop. And that's how you just stand there."
See Zedd's full Hulk Hogan impression and all of his amazing pics below.