Cardi B Wears Engagement Ring For The First Time In Months — See The Pics
Cardi B is officially back together with her husband, Offset, and she wants the world to know.
While at the Ignite Angels and Devils Pre-Valentine's Day party on Wednesday (February 13), the "Money" rapper was spotted rocking her engagement ring for the first time since announcing their break-up in December. While on the red carpet, the on-again couple had some fun with the cameras, posing for dozens of fun and sexy photos. Seemingly wanting to make a statement, Cardi's left hand appeared in the majority of the shots as she placed her hand on her hubby's chest throughout their red carpet photo shoot.
For the couple's night out, Cardi also brought along her younger sister Hennessy Carolina.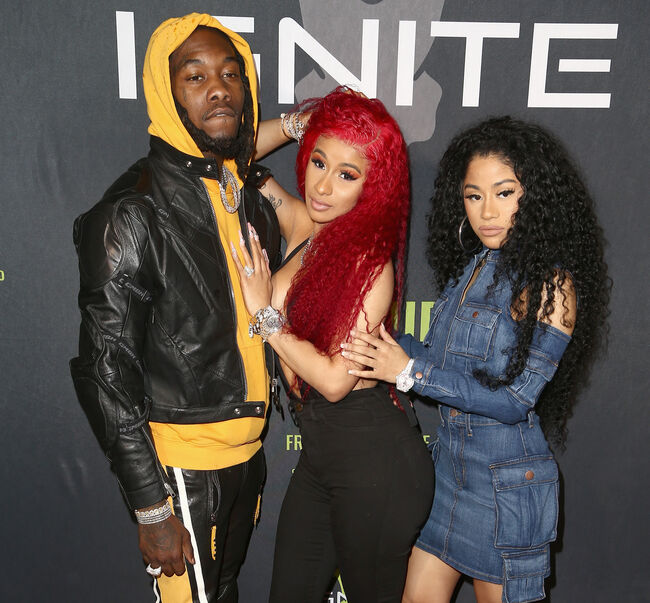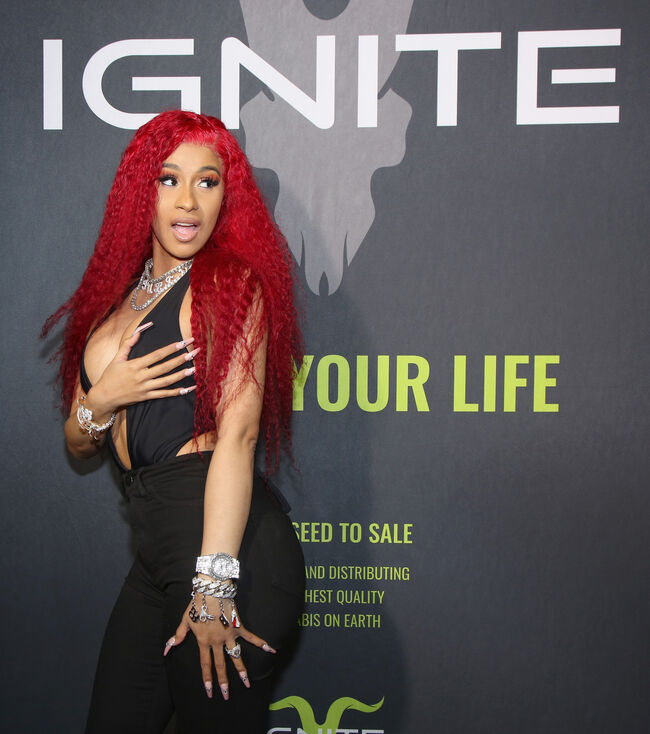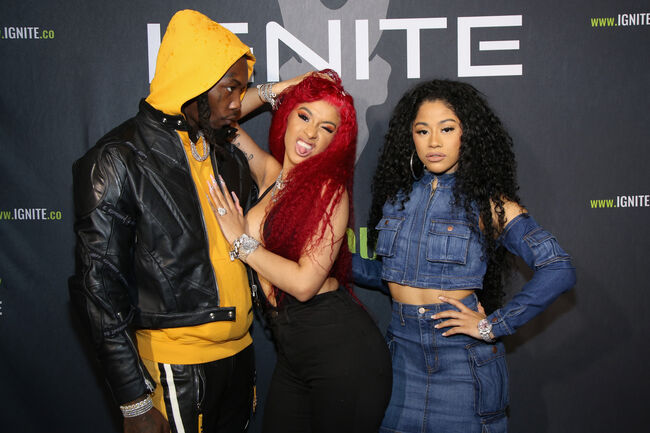 As fans know, Offset and Cardi's pre-Valentine's Day date came just days after the couple turned heads at the 2019 Grammy Awards. Not only did the "TWERK" rapper show up in a jaw-dropping 1995 Mugler Couture gown (inspired by the birth of Venus), Cardi walked the red carpet alongside Offset and the two literally kissed tongues while taking photos. (And when I say kissed tongues, I mean they stuck out their tongues and they touched)
The pair's red carpet moment marked the first time the pair had attended a public event since Cardi announced their split on Instagram in December. As previously reported, Cardi confirmed that she and Offset are giving their relationship another try late last month. While leaving court, a photog asked her if she's back with the Migos rapper and Cardi simply responded: "We're working things out, baby."
The 26-year-old rapper later opened up about getting back together with Offset, telling People, "It's a personal thing. I feel like we just really are a very regular couple. We just do regular things. I just feel like: We're famous … we're really popular right now — I just don't know the obsession, like I feel like everything we do is a big deal. Even before the bad scandals, just from the first time they seen us together, it was just like this big crazy deal."
Despite her feelings about keeping her relationship personal, the "Twerk" rapper revealed her thoughts on critics who judge her for getting back together with the Migos rapper despite his alleged cheating. "My relationship — my marriage — is not for them," she said before going into detail about how she's taking things slow with her husband. "I hang out with [Offset], I talk to him every day and we do our thing. It's just like — to make things perfect … it takes time," she admitted. "You know, f**king and hanging out doesn't mean that you guys are on like a perfect note, it takes time. It takes time. And it's a marriage and there's a child involved and family involved."
Photo: Getty Images